The Next Step Forward
Providing Estate Clearing, Decluttering Services and Counselling Services to help you take The Next Step Forward no matter where your journey takes you!
There is No Substitute for Peace of Mind.
You don't have to do it alone. We assist with decluttering and organizing your home, managing your move, and setting up your home with experience and compassion; we understand this is a process and we are here to help reduce your stress and maximize your home's potential.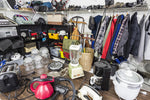 Decluttering

Overwhelmed by all the stuff piling up in your garage, your basement, your closets?
We'll figure it out.
Estate Clearing

We understand that clearing an estate can be an enormous task. We can help! We have experience, knowledge and partnerships that will help make the experience efficient and less complicated. Give us a call!
Move Management

We will hire movers according to your needs and supervise the entire move — taking the stress out of your day. We pack, and unpack and take care of your possessions safely and efficiently. Once moved, we will do the unpacking for you and set up your new digs.
Counselling Services

Private Counselling services are available. Compassionately, we will work with you to help you find ways to cope to whatever is coming your way.
Testimonials
"Show off incredible feedback from your customers"

John Doe
We are here to help. You don't have to do it alone. Call us today to inquire about our Counselling, Estate Clearing, Decluttering, Moving and Downsizing services!